Proudly serving Lake County IL, Eastern McHenry County and Northern Cook County
We've merged with Varment Guard Wildlife Services!
We've merged with
Varment Guard Wildlife Services!
Digger Wasp Control…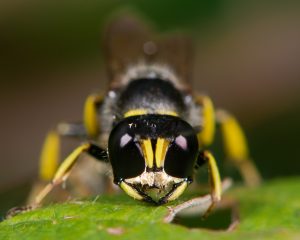 (Sphecidae)
Solitary wasps that create burrows in the ground are often called digger wasps. They are of the Family Sphecidae. A single female builds a nest or several distinct nests. The nests are not constructed of paper. Each cell is supplied with a captured live prey, usually and insect or spider. An egg is laid on the stunned insect and the hatched larvae will consume the prey prior to metamorphosing into an adult.
We get many calls for hornets digging up lawns and flower beds. Hornets do not dig burrows, but one of the digger wasps that closely resembles a hornet is the cicada killer. It is a large insect, about 2 inches long. They will dig half inch diameter burrows that go far enough underground to cause piles of soil to accumulate outside the burrow entrance. Although considered solitary, many individuals can be found creating nests in the same area. We have found that if untreated the numbers with grow each consecutive year.
Miner bees are another common species of digger wasps that we see in our area. Their habits are similar to the cicada killer but are small and look like dark honey bees.
None of the digger wasps are considered to be aggressive and usually don't sting. They do however have the ability to sting and can be very painful.
Treatment of these species requires treating the fresh burrows that are being dug. Old burrows that the new adults have hatched from are no longer active. The treatment of the burrows is effective, however it is not possible to predict where another wasp will choose to create a new one.
Do you see Digger Wasps on your property?  Contact Animal Control Specialists for fast and effective Digger Wasp Control.
Do you have a WILDLIFE EMERGENCY?  We're ready to help.
SAME DAY SERVICE
Available!
(847) 827-7800