Proudly serving Lake County IL, Eastern McHenry County and Northern Cook County
We've merged with Varment Guard Wildlife Services!
We've merged with
Varment Guard Wildlife Services!
Attic Fan Screens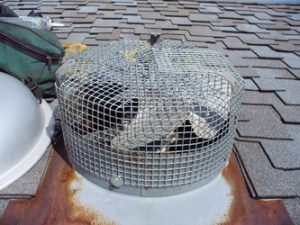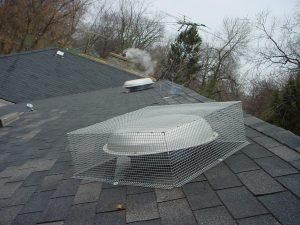 The most common entry point for animals getting into attics is attic fans.
Raccoons and squirrels are the leading opportunists. Screens should always be installed exterior of the fan blades to prevent any future damage or nesting. There are two styles of fan screen that we install. The type is usually dictated by the kind of fan that is present. They are custom made and will exclude even the most determined animal. We find many fans will no longer function after it has been damaged by animals. We attempt to straighten bent fan blades prior to screening, however they will never be factory balanced. Imbalanced blades cause extra vibrations and eventually harm the motor bearings. Our fan screens come with our standard 3 year guarantee against animal intrusion.Screens are constructed of high quality, American made wire mesh. It is galvanized and will provide years of protection against animal intrusion. The screens are custom made to fit over your vents. They are secured with galvanized screws and 35 year caulk to prevent any chance of leaks.
Under-hood style: This method of screening a fan is a lower profile way of excluding wildlife. The fan model dictates whether this method is possible. When the fan hood is re-installed the screen is basically invisible. This is not best choice if the fan needs to be replaced since it is custom fit to the specific fan.
Box Style: This method of screening a fan is just as effective and provides the flexibility to be reused if a new fan is installed. Most fans that are manufactured today require a box style screen.
Do you have a WILDLIFE EMERGENCY?  We're ready to help.
SAME DAY SERVICE
Available!
(847) 827-7800