Proudly serving Lake County IL, Eastern McHenry County and Northern Cook County
Bird Control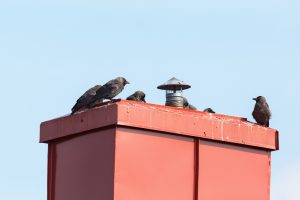 Each year, birds cost property owners millions of dollars in damage. Everything from homes, lawns, landscaping, golf courses, parks, equipment, machinery, industrial facilities, and other property are vulnerable to bird damage. Aggressive birds and excessive droppings can also pose public health and safety concerns.
Property Damage Caused by Birds
As increased urbanization leads to a reduction in wildlife habitat and as wildlife populations continue to expand, these problems are on the increase. For example, in an attempt to gain entry into a building, birds can cause serious structural damage that can lead to costly repairs. According to www.iko.com, birds can cause extensive damage to roofs. 
Excrement from roosting birds can corrode machinery and car paint and create a slipping hazard on sidewalks. The noise and excrement from a roost of vultures or crows can be so severe that backyard swing sets, grills, and lawn furniture become useless. Many cities and towns also complain of pigeon droppings and damage to historic landmarks, such as monuments and courthouses.
Birds can also be the cause of deadly or dangerous hazards. Well publicized bird strikes of aircraft are just one such example. Their nesting behavior can block combustion gases from furnace flues. Nests built on electric fan motors can create a fire. Their discovery inside the living space of a home could create panic. We get reports yearly of people being attacked by nesting birds. Over time, a buildup of excrement can lead to outbreaks of histoplasmosis, a respiratory ailment caused by a fungus in bird droppings.
Lawn and Garden Damage Caused by Birds
With their voracious appetites, Canada geese can destroy lawn and backyard gardens, golf course greens, and other landscapes. These geese have adapted so well to urban environments that in the springtime, their nests can be found throughout these areas. In an attempt to guard these nests from passersby, Canada geese can become aggressive, attacking anyone who poses a threat.
Excessive droppings from overabundant Canada goose populations have also forced the closure of public parks and swimming holes. Many dispersal techniques that work well in rural areas only move bird populations from one neighborhood to another in urban areas. Often a long-term program of population control is the best solution. The oiling of goose eggs so they don't hatch is an example.
How to Control Birds Around Your Home
As is the case with most wildlife problems, altering the physical environment to take away the opportunity to become a nuisance is best. Whether the problem is birds nesting in an attic, siding or bathroom exhaust vent or roosting somewhere on a structure in significantly high enough numbers to be an issue, blocking them from access is preferred.
Sometimes the situation doesn't allow for physical alterations, such as a golf course or park. In these cases disrupting their comfort level and chasing them away may be the best and only option.
We have included the most common species, that we are called on to control, on this site. There are many other occasional bird issues that we come across from time to time.
Most species of birds are protected by Federal regulations. They include migratory, native species, ie., ducks, hawks and owls. Non-native or invasive species are not protected and their control is not restricted, ie., European Starlings, English Sparrows and pigeons. Some have become such a nuisance that the States have been given the ability to regulate them, ie., Canada Goose.
Contact Animal Control Specialists today for quick, effective bird control.
Do you have a WILDLIFE EMERGENCY?  We're ready to help.
SAME DAY SERVICE
Available!
(847) 827-7800