Proudly serving Lake County IL, Eastern McHenry County and Northern Cook County
We've merged with Varment Guard Wildlife Services!
We've merged with
Varment Guard Wildlife Services!
Buried Screen Installation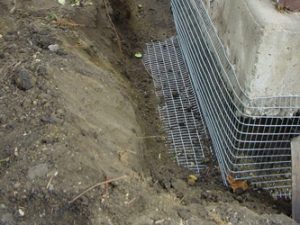 Many of the wildlife species in our area create den sites by burrowing under structures. These include raccoons, opossums, groundhogs, foxes, rabbits, chipmunks, and skunks. Fortunately there is a way to prevent them from gaining access to these areas. Burying a screen below ground level to the depth of a foot or so is the only guaranteed solution.
We dig out the area of concern and install an L shaped screen into the bottom of the trench with the foot pointed outward. The screen is then anchored to the structure along the top of the screen. At this time the trench is back-filled and leveled out. Of course we use the same quality, heavy gauge, galvanized wire mesh as our other products. The screen will resist rusting or degradation and will provide many years of protection.
Do you have a WILDLIFE EMERGENCY?  We're ready to help.
SAME DAY SERVICE
Available!
(847) 827-7800