Proudly serving Lake County IL, Eastern McHenry County and Northern Cook County
We've merged with Varment Guard Wildlife Services!
We've merged with
Varment Guard Wildlife Services!
Bald-Faced Hornets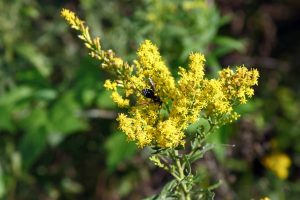 Generally considered the most aggressive of the social wasps.
The bald-faced hornet (Dolichovespula maculata) is moderately large and has whitish or yellowish markings on the front of the head, between the eyes. The basic color of the body is black, with white markings on the thorax or abdomen. Their nests are made of a paper-like material that is composed of chewed up wood and salivary secretions. The nests generally resemble very large inverted tear drops or bloated soccer balls. The interior of the nest consists of several tiers of carton cells. The continuous paper envelope surrounds the whole nest. There is usually a single opening at the lower tip of the nest. The nests are found hanging from trees, bushes and the sides of structures. Nests grow exponentially as the season goes on. In most cases it seems that the nest appeared overnight, while in reality they all begin in the spring with one queen that survived the winter.The bald-faced hornet is protective of the nest and will sting repeatedly if it is disturbed.
Don't risk being stung. We will treat the hive, guarantee that it is dead and return to remove it. Call us today!
EMERGENCY SERVICE
Available 24/7
(847) 827-7800