Skunk Removal and Control Glenview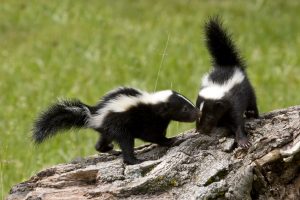 Glenview has a skunk control problem this year.  In an effort to reduce the skunk population within the village, Glenview recently decided to partner with residents by launching a Skunk Removal Assistance Program.  The Program is currently offering financial reimbursement to homeowners who choose to work with a licensed wildlife control company like Animal Control Specialists to remove skunks from their property.  Click here for more details about the Glenview Skunk Removal Assistance Program.
Do you suspect you have skunks nearby? Skunks can easily be identified by the white stripes running along their body.  The odor that's emitted when a skunk sprays can be extremely strong and uncomfortable.  If you see a skunk on or near your property you need to call Animal Control Specialists immediately.  Skunks can make their home under your house or deck.  When startled they can spray you or your pets.  The odor can be extremely difficult to remove.
Animal Control Specialists, Inc. is a licensed Glenview, IL Animal Control Company. We specialize in humane solutions to nuisance, urban wildlife problems.
Prevent damage to your home and property that can be caused by skunks. In addition to our Glenview Skunk Removal Services, we install barrier solutions such as deck screens to prevent future skunk problems.  Visit our skunk removal page for more information about skunks.
Do you have a WILDLIFE EMERGENCY?  We're ready to help.
EMERGENCY SERVICE
Available 24/7
(847) 827-7800